last updated 4/1/13
BIG B's little z AUTO SALES
I've built a lot more vehicles than I can use on my layout and I will be offering some of them on ebay. I do not sell direct.
I'll be adding additional pieces and organizing these in a better fashion as time permits but until then feel free to check out a few of the clean one owners (and some not so clean) that are on my lot. If you have a parking spot for one of these rascals on your layout please watch for them or ask for me to post one on Ebay.
PLEASE NOTE THAT TYPICALLY Z SCALE ITEMS ARE SHOWN
CONSIDERABLY SMALLER THAN WITH MY VEHICLES. THESE
PICTURES ARE ENLARGED CONSIDERABLY SHOWING ANY FLAWS
SIGNIFICANTLY MORE THAN IN LIFE SIZE OR NORMAL PHOTOS.
Due to the extremely small size of these vehicles it is not possible to put appropriate warnings on them but it should be understood that these vehicles pose certain safety hazzards for children and that the owners assume total responsibility for all safety concerns and should establish safegards as they see appropriate.
MANY OF THE VEHICLES I PAINT OR OTHERWISE ALTER COME WITH A SPECIAL Z SCALE AUTO TITLE AND IF SPACE ALLOWS A MATCHBOX CASE WITH PRODUCT INFORMATION.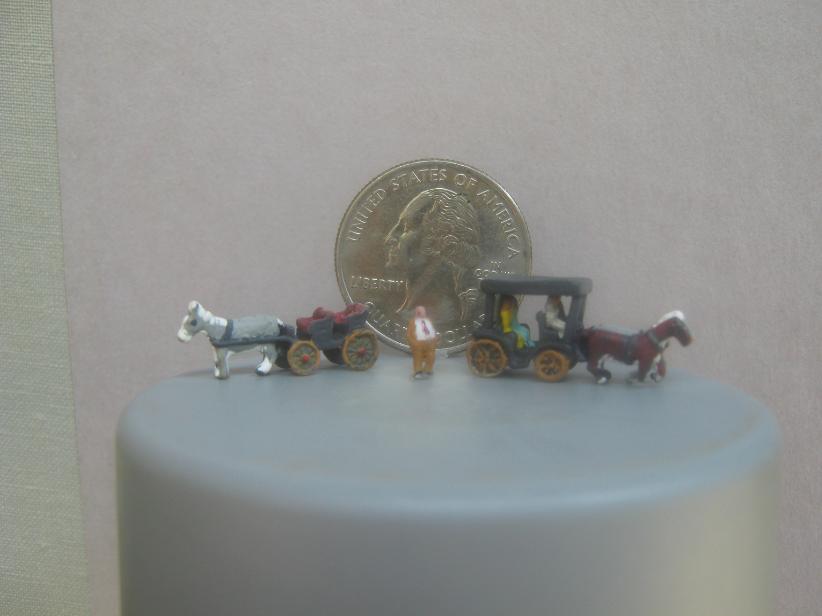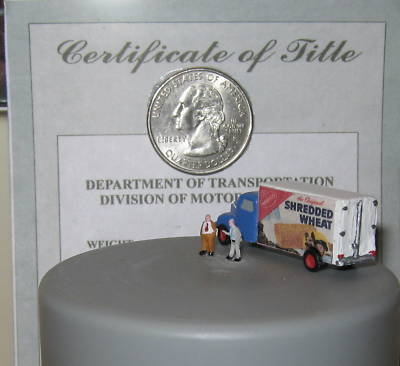 THESE LITTLE RACE CARS WERE DONE IN STERLING SILVER AND WERE SOLD AS ONE OF KINDS WITH NOT REPEATS OF COLOR/NUMBER COMBINATIONS. THE PARTS APPEARING AS CHROME ARE ACTUALLY EXPOSED SILVER. THESE WERE SOLD TO MY FAVORITE EBAY CUSTOMER AS A SET.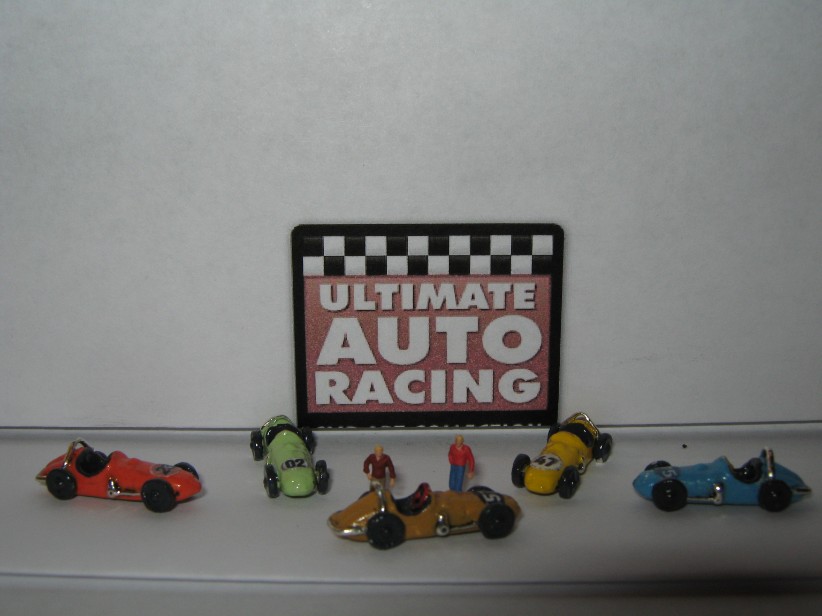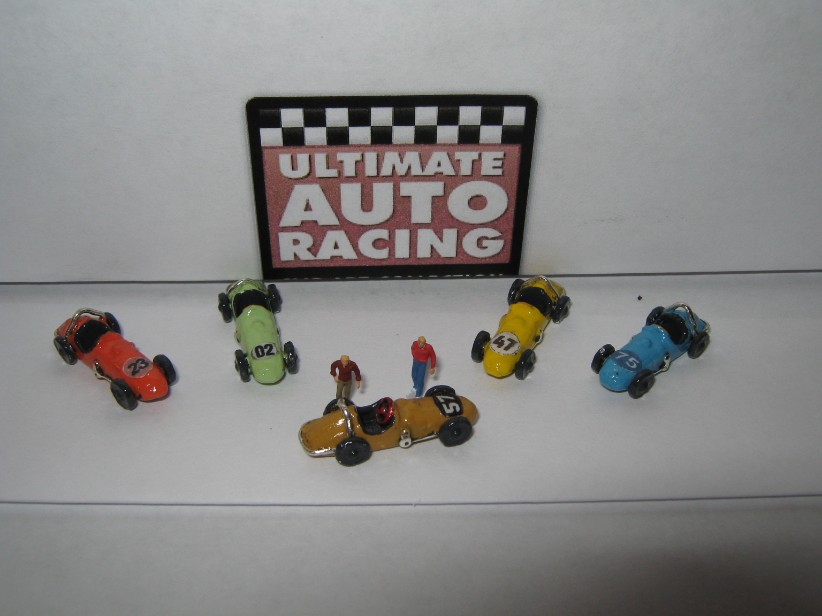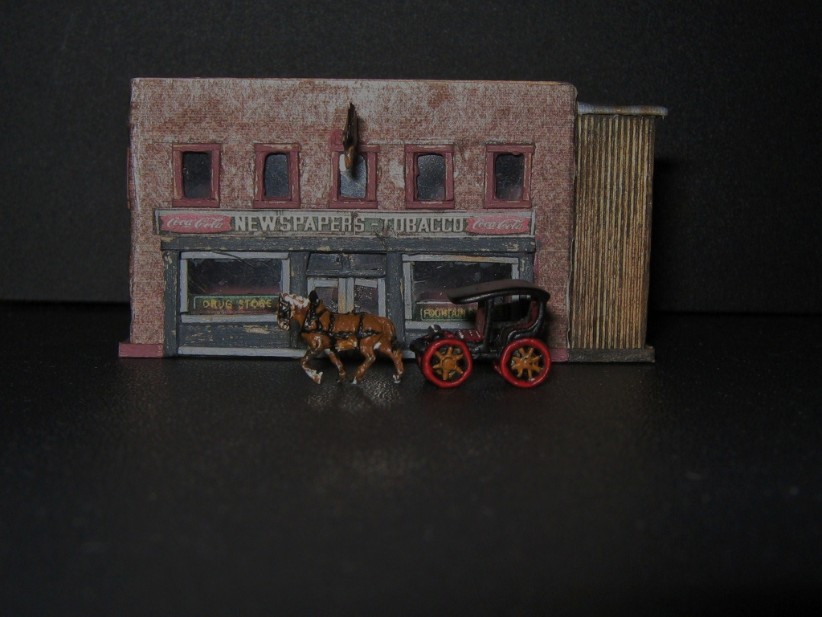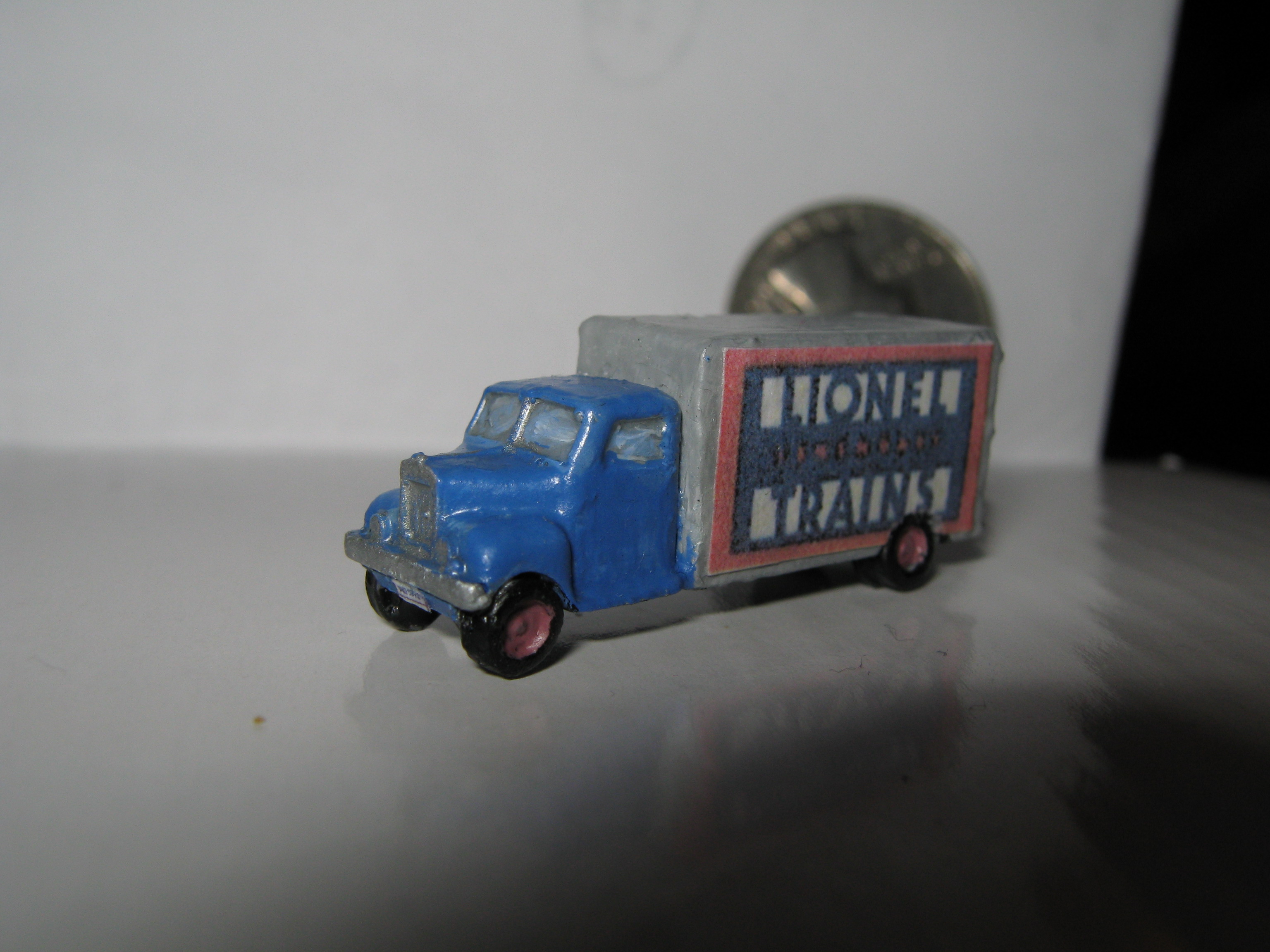 THE BOX TRUCKS ABOVE AND BELOW ARE RANDY BROWN MODELS FITTED FOR LIONEL TRAINS AND KOOL AID. BOTH ARE CLEAN ONE OWNERS.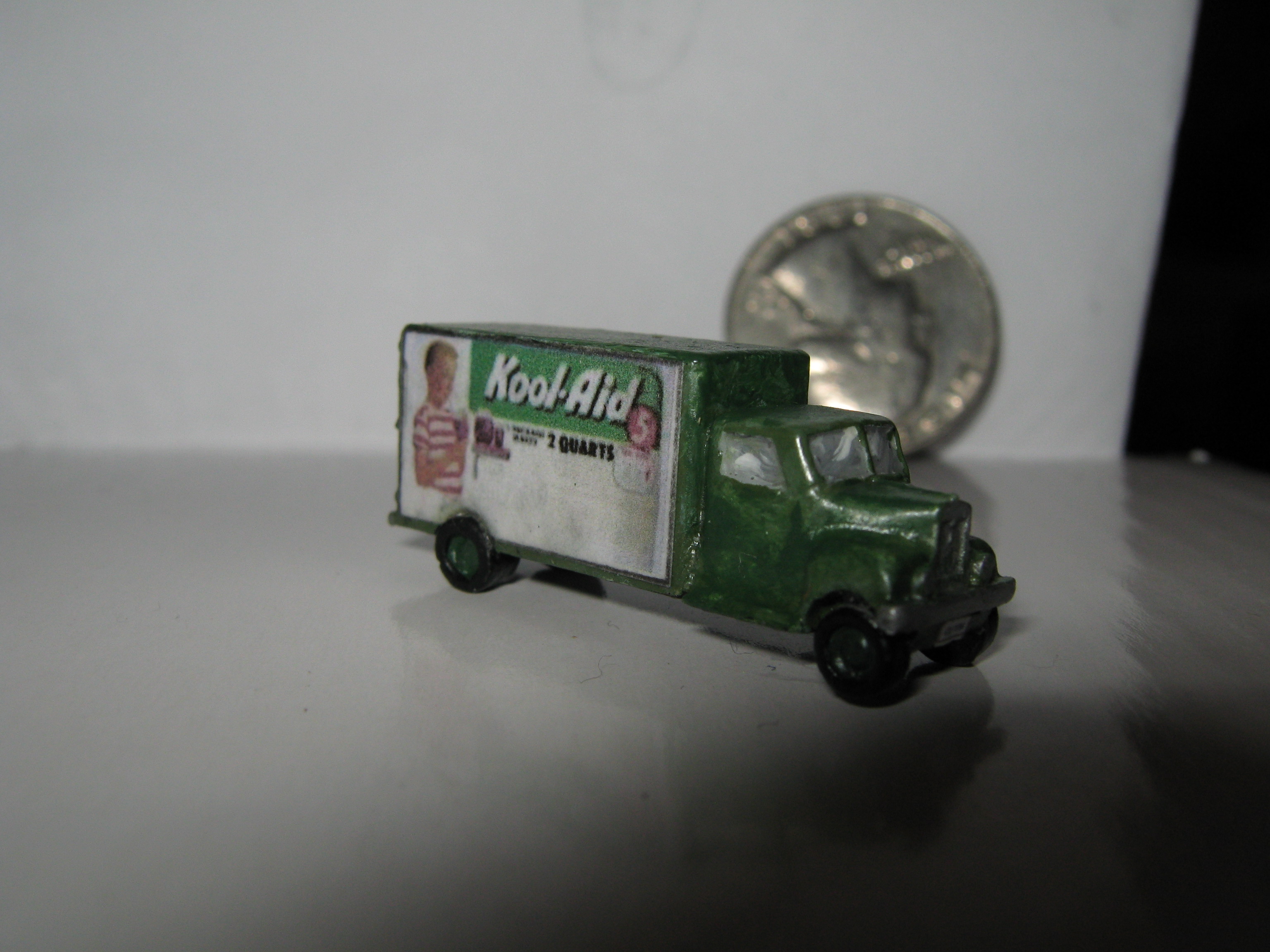 THIS BASIC HANDPAINTED 1954 CHEVY PICKUP (BELOW) IS IN LIKE NEW CONDITION AND IS IDEAL FOR THIS ERA OR AS A RESTORED VEHICLE FOR LATER PERIODS.
Currently listed on EBAY
Sold $26.27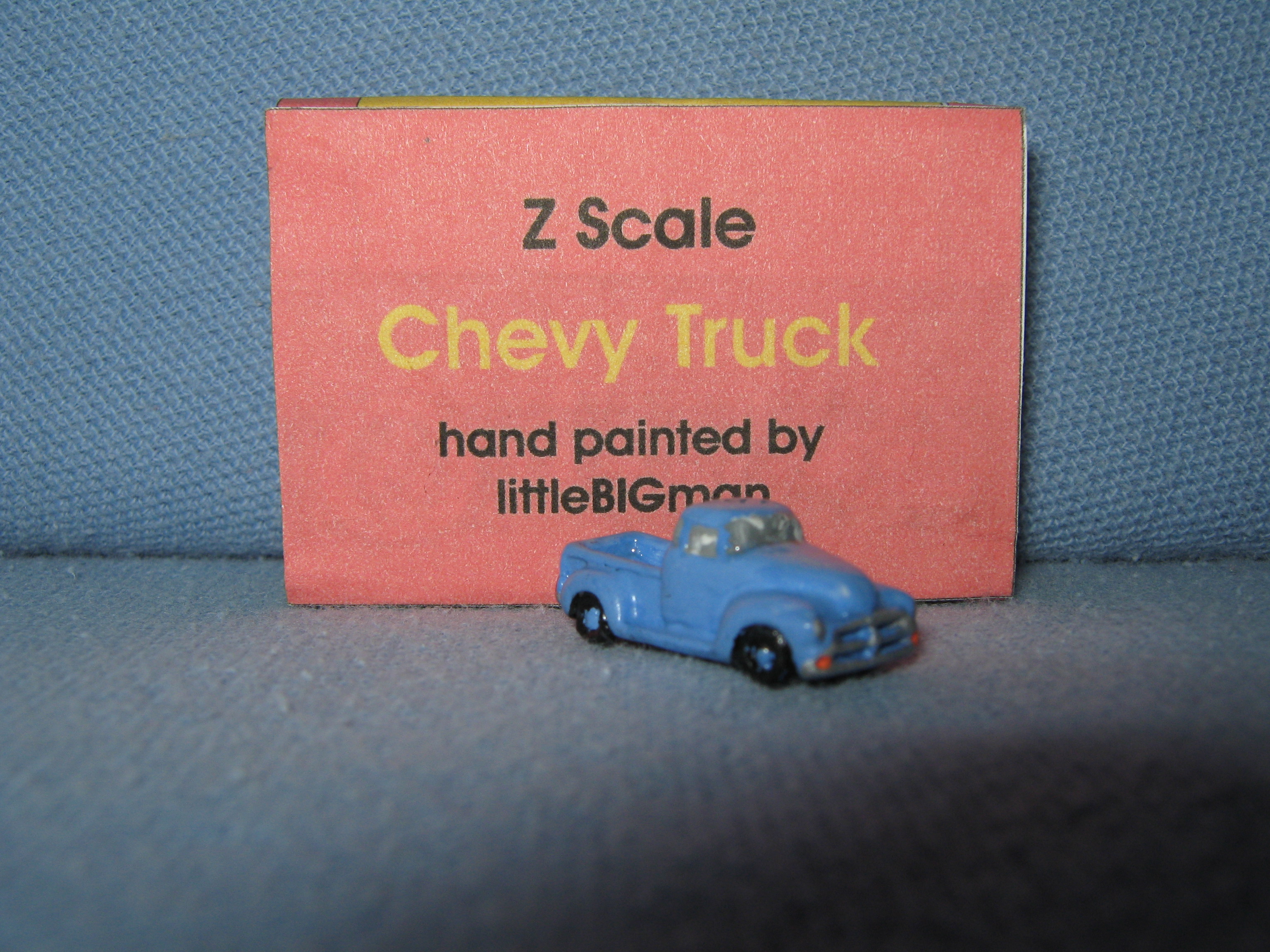 THE CUSTOM DISTRESSED PICKUP BELOW IS OBVIOUSLY NOT A POLICE CAR AS THE BOX IT IS SETTING ON SUGGESTS. I ACTUALLY USED THE WRONG SHIPPING BOX TO STAGE THE PICTURE. ALL OF THE VEHICLES I PAINT HAVE MATCH BOX COVERED SHIPPING BOXES AS WELL AS TITLES.
CURRENTY LISTED ON EBAY
sold $24.48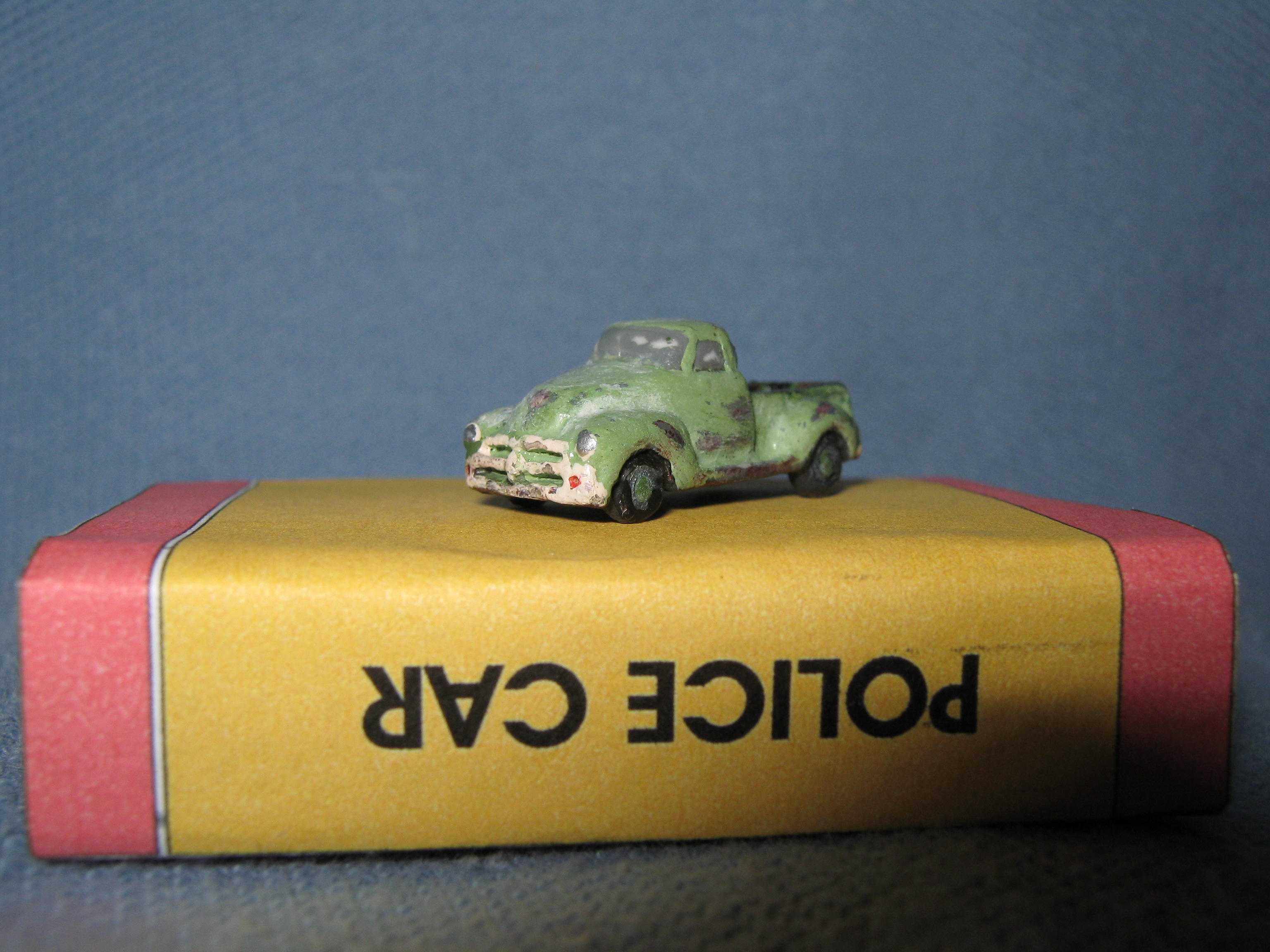 THE RANDY BROWN DUMP TRUCK (BELOW) HAS BEEN CLEANED UP BUT HAS SEEN BETTER DAYS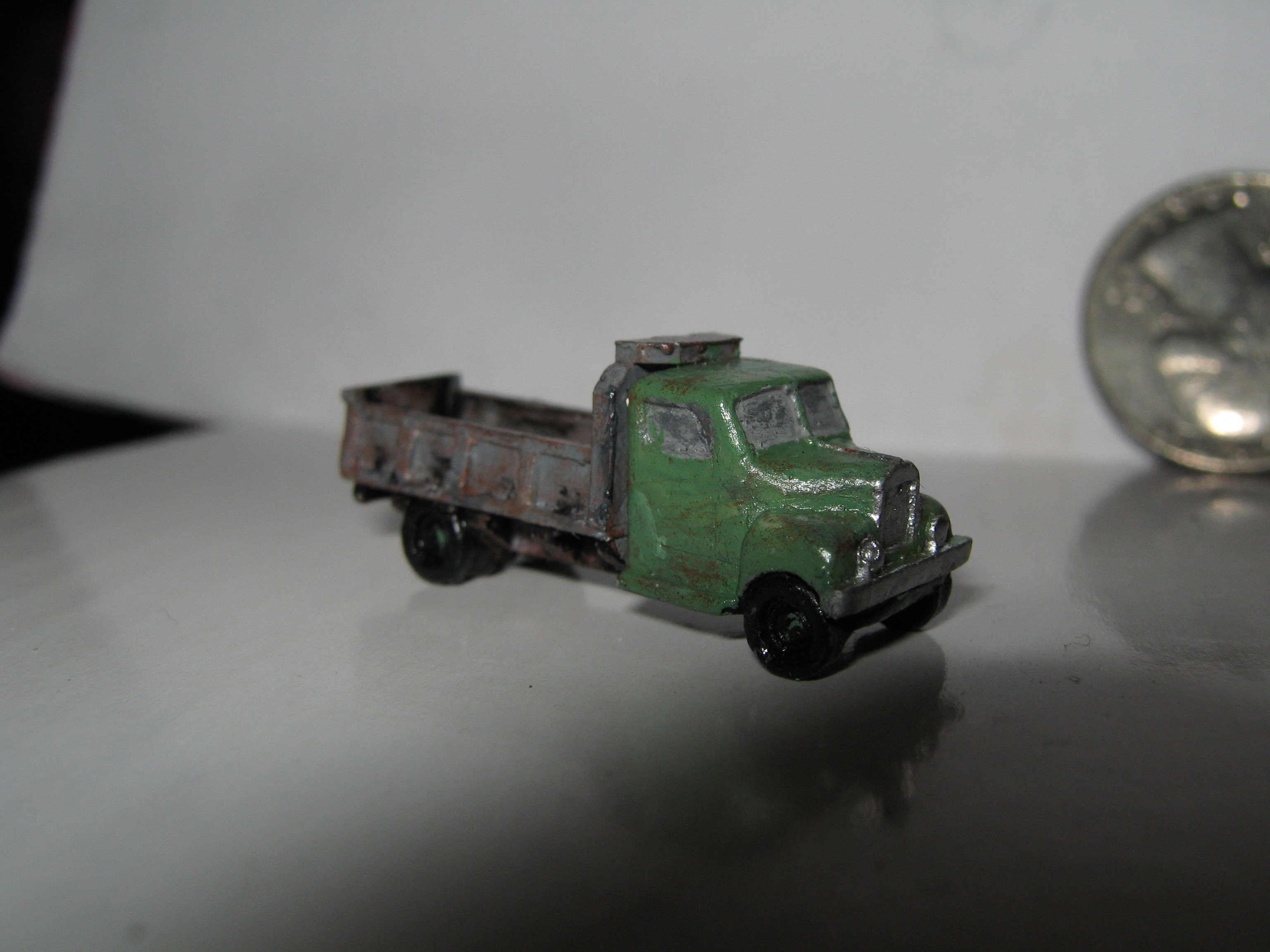 THE "ONE OF A KIND", MAKE MY MODEL BOX TRUCK BELOW HAS BEEN FITTED FOR GRIT NEWSPAPER. NOTE THIS MAKE MY MODEL HAS HAD ITS' NOSE ALTERED FOR A DIFFERENT LOOK THAN THE STOCK TRUCK AS SOLD.
BELOW (LEFT) IS A MAKE MY MODEL FLAT BED AND BELOW (RIGHT) IS A RANDY BROWN FLAT BED. BOTH TRUCKS ARE VERY USED. MAKE MY MODEL SELLS AN ARRAY OF QUALITY AND HIGHLY DETAILED ITEMS WITH THEIR VEHICLES FEATURING OPEN CABS. RANY BROWN ALSO SELLS A NUMBER OF PRODUCTS AND WHILE HIS VEHICLES ARE SOLID CAST WITH SOLID CABS, I LOVE HIS PIECES BECAUSE THEY ARE DURABLE AND SLIGHTLY MORE TOLERANT TO ABUSE. I HAVE FOUND BOTH MANUFACTURES EXCELLENT SO FAR AS PROVIDING INFORMATION AND SHIPPING.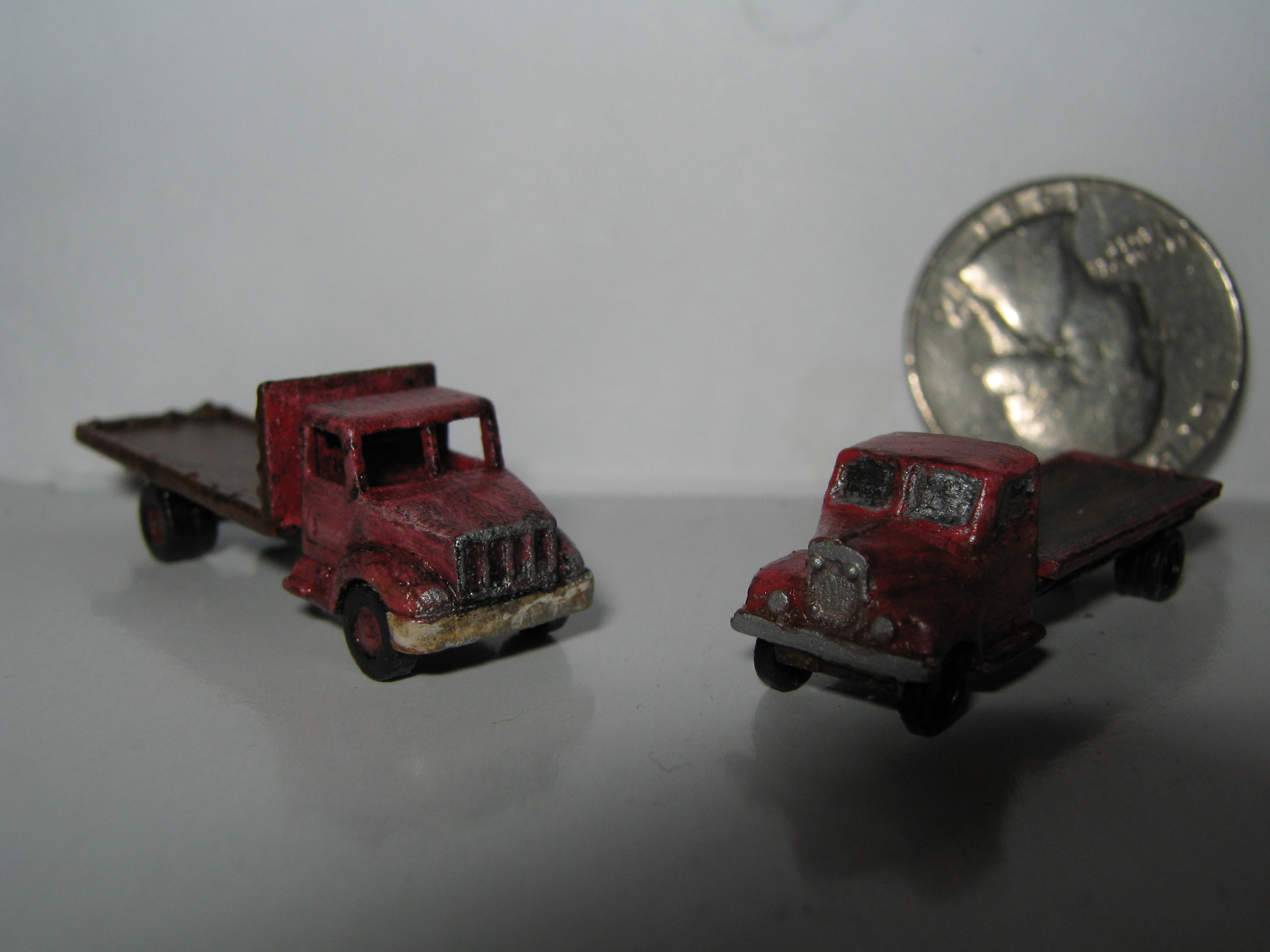 THE WOODIE BELOW IS THE EVERY DAY DRIVER OF littleBIGman and is NOT FOR SALE. I SOLD AN IDENTICAL ONE WITH A SURFBOARD AND SURFER INCLUDED. THE PIECE IS FROM SEARAILS AND HAS REMARKABLE DETAIL. I AM ALSO VERY IMPRESSED WITH THEIR 49 FORD, HOWEVER THEIR PIECES ARE A BIT DIFFICULT TO COME BY FOR SOME UNKNOWN REASON.
SOLD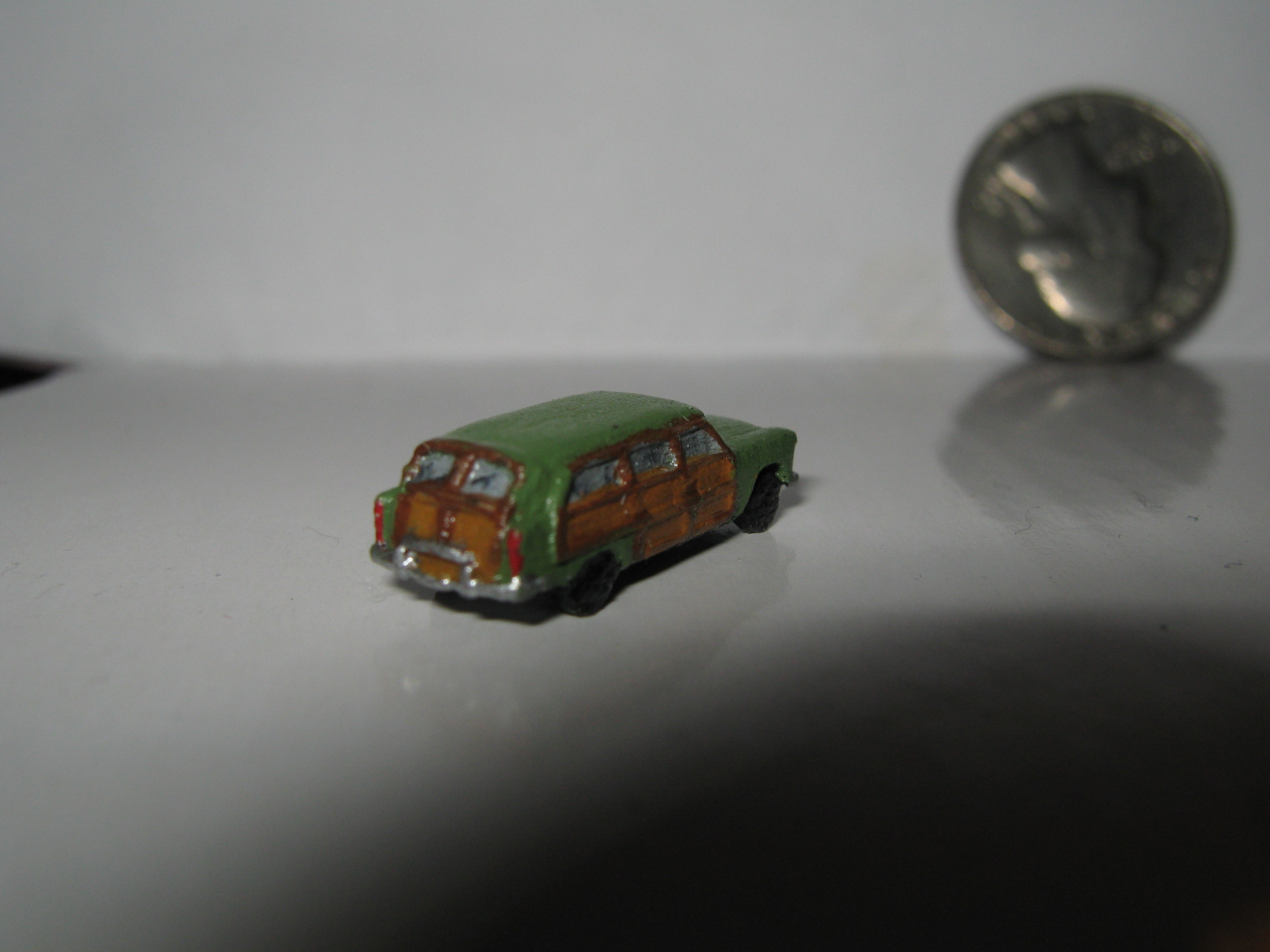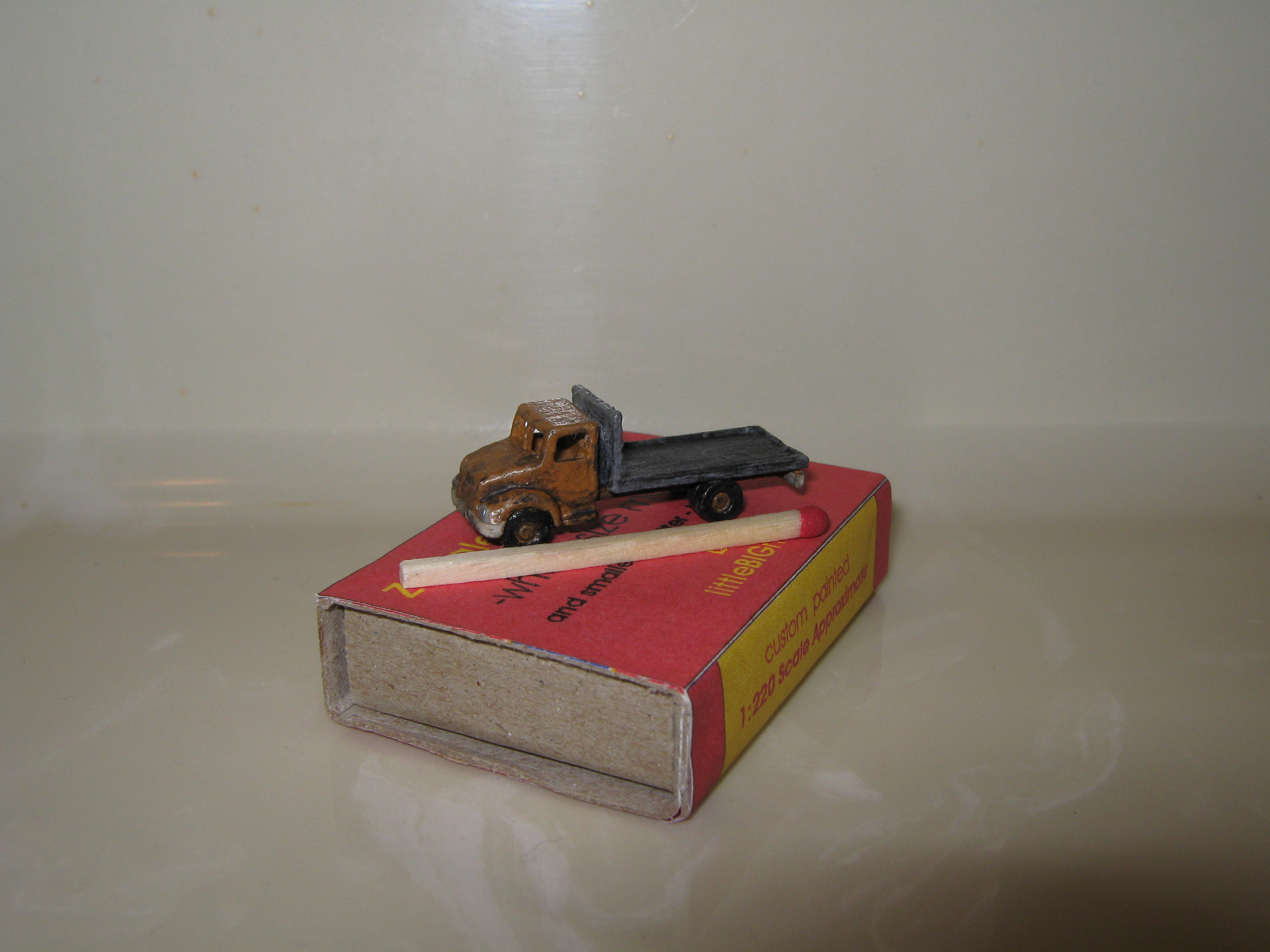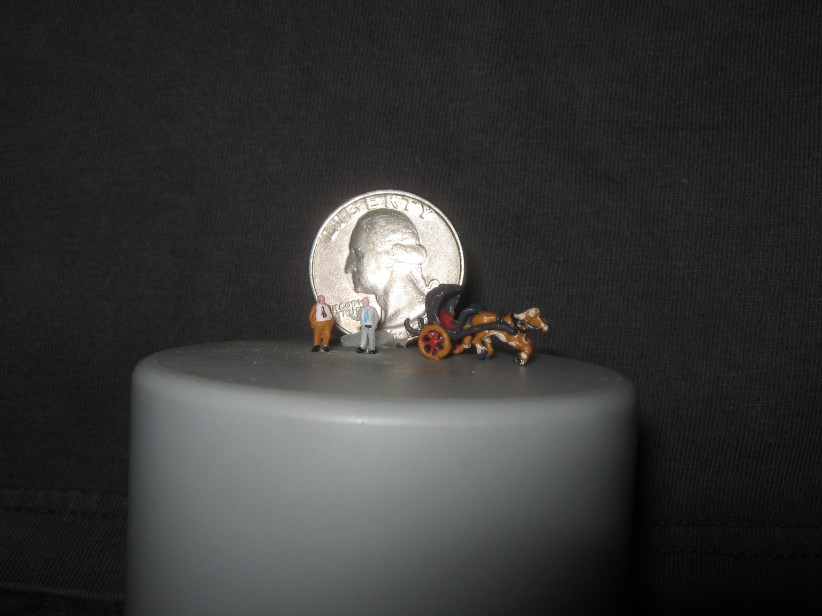 57 Cadillac currently on Ebay
As always I have my personal favorites
and usually it's my latest project
and here it is and I couldn't be prouder of the result.
sold for $23.06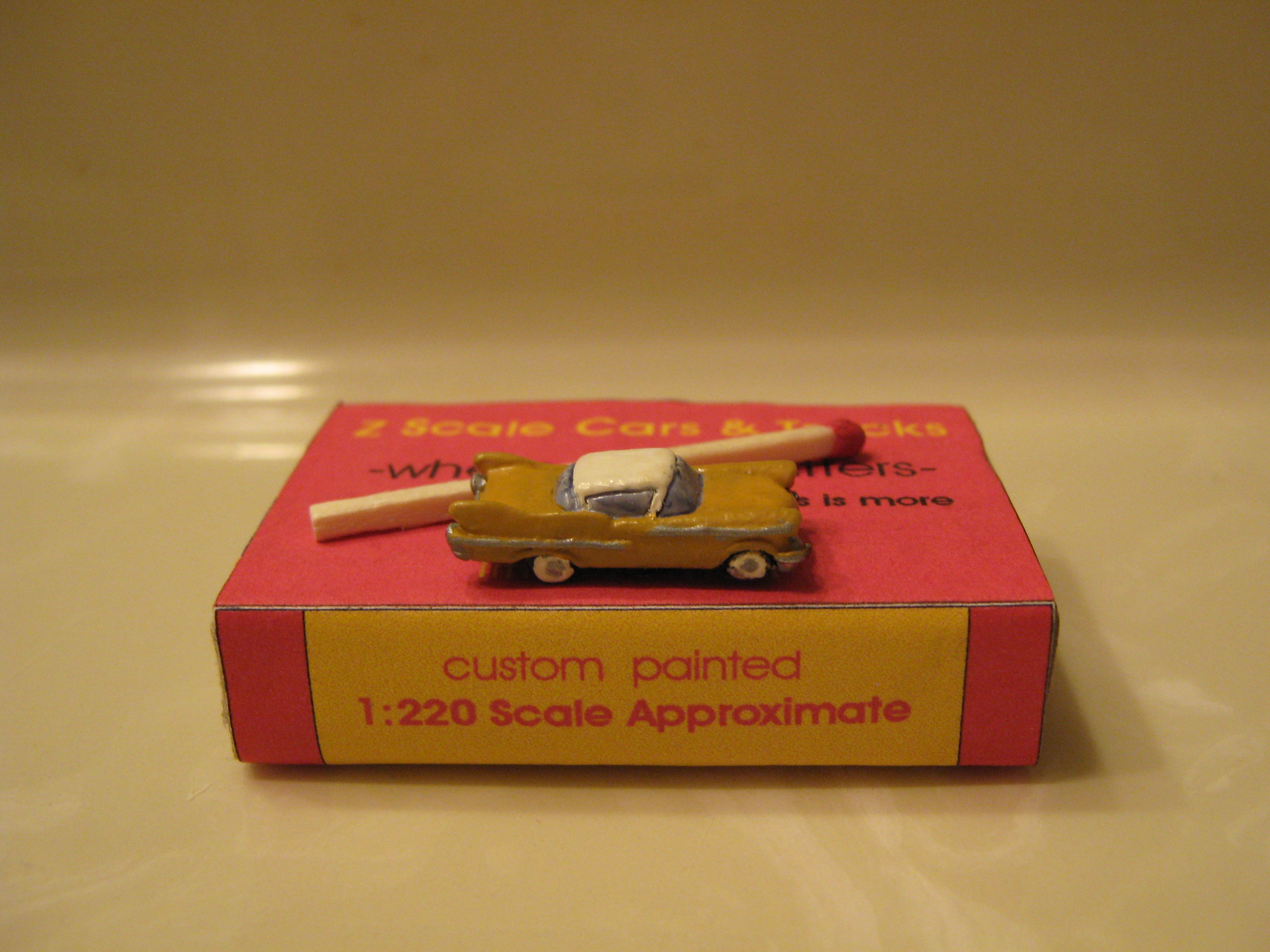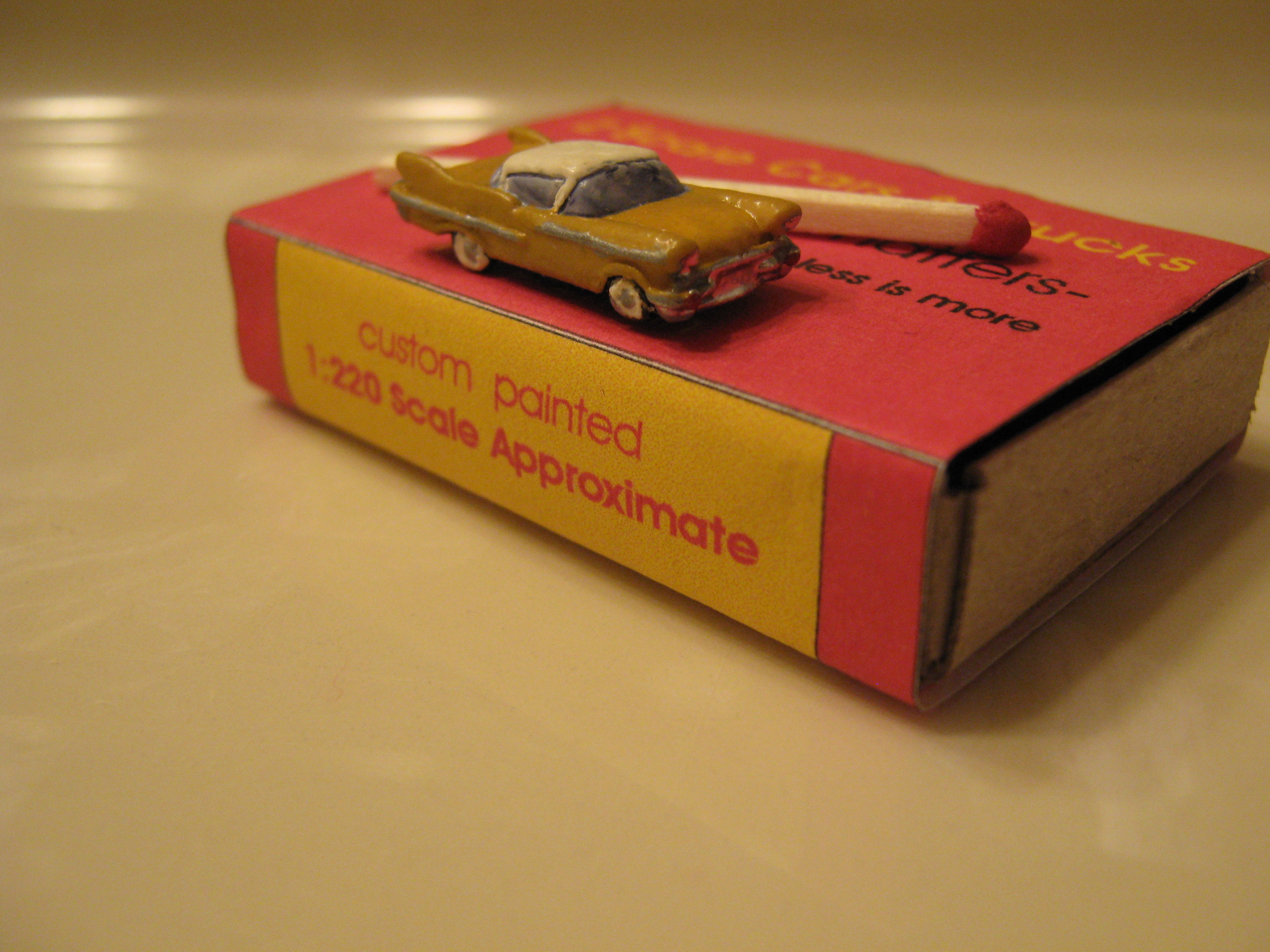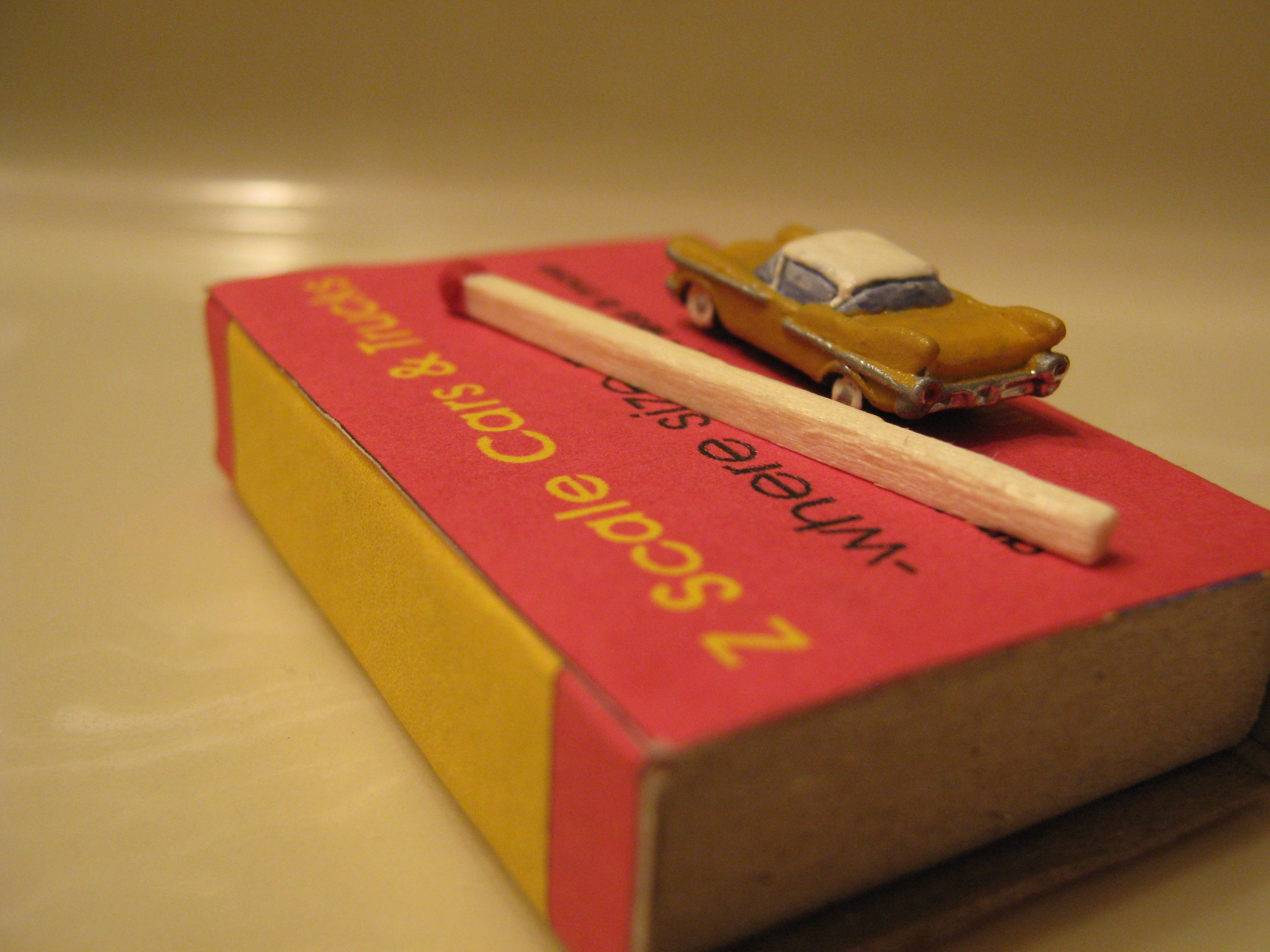 This 58' Chevrolet two-tone below was not one of my proudest moments as
the details were not sufficient to produce a better result. The result was
however better than the picutures indicate. This version is the only
game in town for anyone who has a need for a 58' on their layout and due
to the difficulty in working with this one, I'm in no rush to do another.
sold on EBay $14.99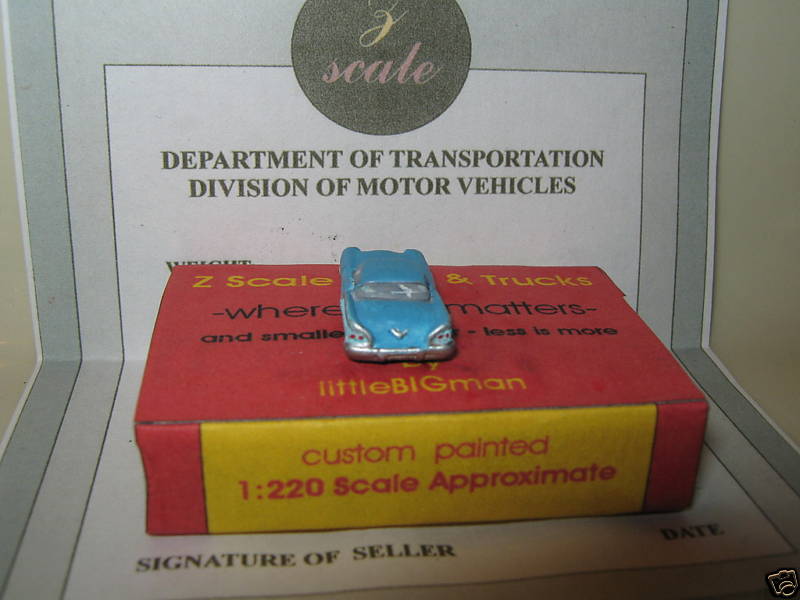 The pieces below are composed of (a minimum 90%)Silver
all are sold with the exception of the yellow corvette.
They are listed with a beginning bid of $19.99
and a
BUY IT NOW price of $24.99