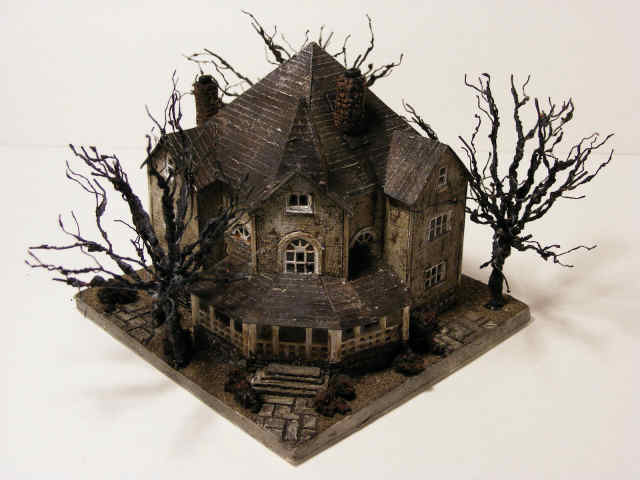 The building above by Tammy Oram answers the question,
"is Z Scale an art"? For sure!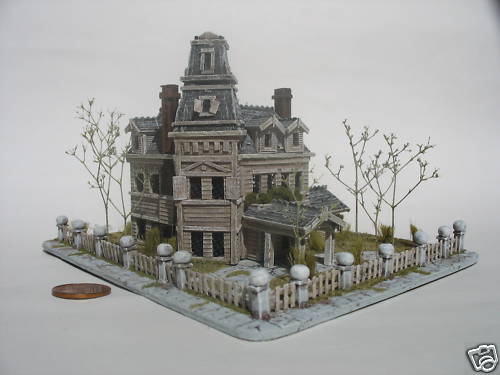 above the Addams Family House by David Boldt (aka sboldt1)
No big surprise that this beauty generated as much interest as it did on EBAY!
More on David below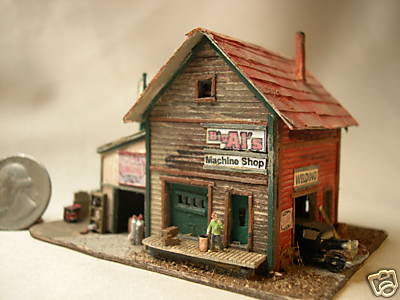 above piece by the Gray Brothers
here's your proof that two heads are better than one
last updated March 20,2009
Z SCALE ARTISTS & OTHER IMPORTANT LINKS
SCRATCH BUILT BUILDINGS
last updated February 9th, 2009
Because Z scale is relatively new, there are substantially less features and details available than in other better established scales such as HO and N. For this reason, a culture has developed for creaters of Z scale buildings and features. I personally consider this a blessing. Scratch products greatly enhance an already highly creative experience. Within that culture a select few Z scale artists have evolved. Their creations are highly valued additions to layouts.
As I stated in my profile, I am not a artist by any definition or stretch of the imagination but as a treat to all of you, in case you haven't already discovered the genius of these people, I want to direct you to some of the best of the Z scale builders. I use the word artist in describing them because they not only have superior construction techniques but have the imagination, and innovation necessary to develop pieces that make you feel they are real. An artist creates buildings that spark your curiosity about the family that lives inside and makes you believe that if you stare long enough someone is going to walk out one of those little doors. They also constantly try to come up with something new and not just crank out the same old recycled pieces for profit.
I would like to mention a few of my favorite Z Scale Scratch Build artists in no special order of importance. Although I personally want to build the majority of my pieces, I will be purchasing products from a couple of these people. If you haven't visited their sites yet you're missing some real
Z SCALE EYE- CANDY
Michael Duggan from Virginia, also known as Paw of a Bear, who gives the Z world some true masterpieces. Paw can crank out products while maintaining originality and (in my humble opinion) is the Z man. Paw's appreciation of the hobby is evident and he kindly shares some great How To advice on he website. Some of his current and past projects can be viewed on Ebay and at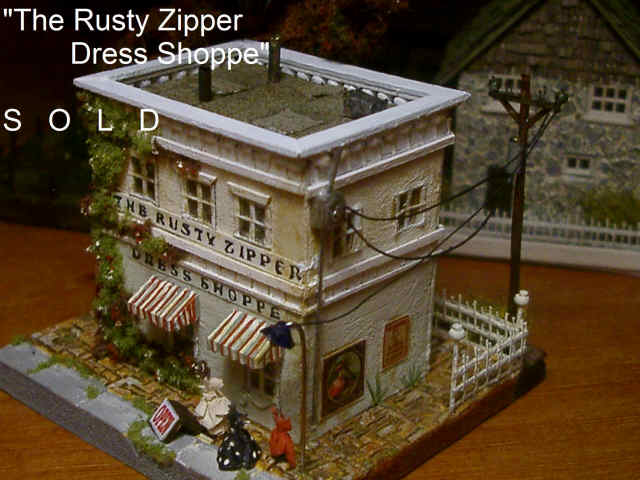 "The Rusty Zipper" from Tammy Oram is one of my favorite Z Scale pieces
A pure artist,Tammy Oram who's E BAYuser name is tincoco1 is from Utah and has built some of my personal favorite buildings but only offers pieces from time to time. You'll see no mass produced or recycled pieces with slight variations here. Orginality is what her pieces are all about.Tammy has produced some very distinctive pieces, showing considerable imagination and creativity. What a shame she doesn't have more time to devote to Z scale. Her pieces are currently fetching some very high prices at auction and rightfully so. Her pieces are art.
http://zscalebuildings.com/default.aspx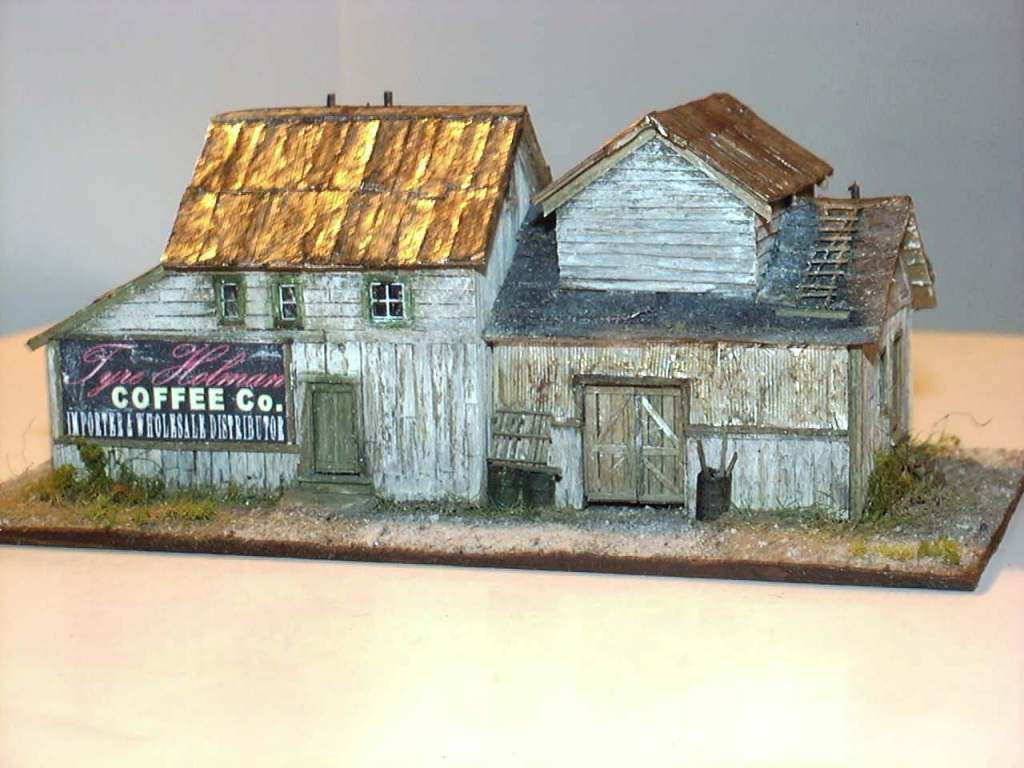 Look up "realistic" in Webster's Dictionary and you'll see the above piece by Alexander Balsicas. For more of this artist's work visit http://www.youtube.com/user/angryalsz you'll be glad you did.
In a very similar class to Tammy is Alexander Balsicas working under the name ofAngryaLs. Alexander creates some of the most creative and complexed buildings available in Z scale. He is one of the few scratch builders who practices board by board construction. I don't have any contact information on him. You'll have to wait for one of his a relatively rare gems to become available on EBAY. Recent pieces were sold shortly after being listed and I personally was outbid on his most recent piece. Absolutely great stuff. His pieces are often sold at BUY IT NOW prices. His pieces are art.
Two of Z scales most prolific and skilled Z scale builders are the Gray brothers, Byron and Sydney, who live in Venice, FL. I love their often used handbuilt accessories such as doors and windows on their buildings. As a rule (but not in their case) some quality is sacrificed in scratch built windows, etc. but the trade off for orginality is a more than fair exhange, that I welcome. You can usually find a couple of their nifty buildings along with some carefully detailed vehicles on ebay. To say they have their skills finely honed is an understatement. Collectors clammer for their pieces.
View one of their piece above
That's what I'm talking about !
Any serious Z scale layout would proudly host at least one building from
each of previous mentioned builders.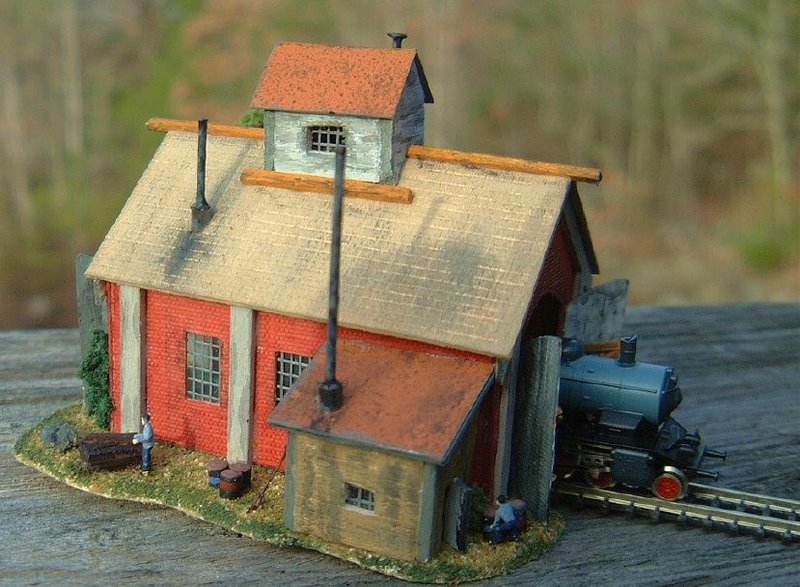 Ben Netten's experience is evident in this piece
Ben Netten whose EBAY user name is warp driver offers occassional pieces on EBAY of unique quality. Ben is from McCaysville, GA has been scratch building for his railroad layouts since he was a child and has been doing z scale since the 90's. His work can be admired at
http://sites.google.com/site/zscalemodels/
and/or
http://picasaweb.google.com/bnetten/Railroadworkshop
The otherlionel, (Lionel Jean Jacques Gazeau) who has an interesting website which is found at www.zeelionel.com also offers some very nice pieces which are available on ebay and through his website. His website makes this one look like a communication you would find on a cave wall.
Several other builders also offer scratch built buildings of very high quality. Among these builders is a Ebay seller (sboldt1) David Boldt from Winter Springs, Fl whose email address is sharonboldt@aol.com. David recently sold one of his pieces on EBAY for one of the highest prices I have seen in the couple of years I have been watching. Hope to see more of his stuff in the future.
Amberpsycho (Mark Collins) from Dublin, Ireland has only been working in Z scale since October 2008 but is creating some very interesting and colorful pieces.
beegeesbetterhalf (Gertie Hunt) from Winnipeg, Manitoba Canada has been working in Miniature for years and frequently offers her Z scale structures and pieces on EBAY. Gertie like many Z scalers began working in miniature by working on dollhouses. She plans a website in the near future. She can be reached at rghunt@shaw.ca I will keep you posted of any such developements.
3559girling also from Canada offers some very nice scratchbuilt houses and buildings on ebay. I have requested additional information on her and will provide any information that is forthcoming.
If I've left someone out who should be included please provide me the necessary info for their inclusion.
updated February 22, 2009
A website of interest for scratchbuilders is hosted by Ron Pare of Ontario Canada www.scratchbuildersguild.com . Your support of the site will benefit the craft, so stop by for a visit or contact him at pare.ron@gmail.com. This site provides Z scale specific information and other scales.
Non Z scale specific basic scratch building information for novices can also be found at several other websites. Here are a couple that may offer some help for those who want to venture into building some of their own pieces:
www.nmra.org/beginner/scratch.html
http://erojr.home.cern.ch/erojr.content/hobby.htm
A book titled Scratchbuilding and Kitbashing Model Railroading Stations by Bob Hayden a 1978 Paperback by Bob Hayden can be found on Amazon.com for as little as $7.00 plus shipping at the time of this entry. The book lists no reviews so how much information is available is not known. For the money, it may be worth the investment. Again this information may not be Z scale specific.
I will be adding more areas of interest in the near future and discussing some of my favorites in the various catagories